back to press releases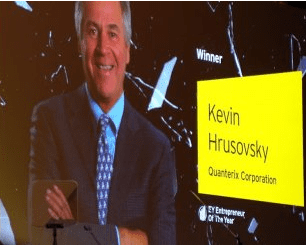 EY Announces Kevin Hrusovsky, Executive Chairman And Chief Executive Officer Of Quanterix, As An Entrepreneur Of The Year® New England 2017 Finalist
Lexington, Mass. – EY today announced that Kevin Hrusovsky, Executive Chairman and CEO of Quanterix Corporation, a company digitizing biomarker analysis with the goal of advancing the science of precision health, and Founder of Powering Precision Health (PPH) Summit, is a finalist for the Entrepreneur Of The Year® 2017 Award in the New England program. The awards program recognizes entrepreneurs who demonstrate excellence and extraordinary success in such areas as innovation, financial performance and personal commitment to their businesses and communities.
"It's an honor for Quanterix to be recognized by EY for this award," said Hrusovsky. "Our mission is to eradicate disease and premature suffering through a set of revolutionary innovations that can enable early detection and disease prevention. Our impressive team is making important progress in all categories of medicine and are excited to receive this recognition from such a respected organization."
Hrusovsky and the Quanterix team have dedicated their lives to transforming medicine from reactive healthcare focused on treating the sick to proactive precision health focused on preventing the disease in the first place. The team has many years of experience disrupting life sciences and is making compelling progress at Quanterix digitizing biomarker analysis to advance the science of precision health. The company has grown rapidly, increasing revenues 45 percent this past year, 45 percent the previous year, and 300 percent over the past three years. Hrusovsky also serves on (or has served on) the board of directors of several other companies focused on revolutionizing health, including: Caliper Life Sciences; Cell Signaling; BioreclamationIVT; Cellaria; 908 Devices; SynapDx; SeraCare; Xenogen; and Solect Energy.
In 2016, Hrusovsky founded a summit entitled Powering Precision Health, the nation's first summit dedicated to bringing the world's leading physicians, scientists, innovators, investors, policy makers and patient advocates together to fuel the revolution to early detection, disease prevention and next-generation treatments. The next summit will be on Oct. 24-25 in Boston, Mass.
Hrusovsky was selected as a finalist by a panel of independent judges. Award winners will be announced at a special gala event on June 27, 2017 at the Boston Marriott Copley Place. Now in its 31st year, the EY Entrepreneur Of The Year program has expanded to recognize business leaders in more than 145 cities in more than 60 countries throughout the world.
Regional award winners are eligible for consideration for the Entrepreneur Of The Year National program. Award winners in several national categories, as well as the Entrepreneur of The Year National Overall Award winner, will be announced at the Entrepreneur Of The Year National Awards gala in Palm Springs, Calif., on Nov. 18, 2017. The awards are the culminating event of the Strategic Growth Forum™, the nation's most prestigious gathering of high-growth, market-leading companies.
Sponsors
Founded and produced by EY, the Entrepreneur Of The Year Awards are nationally sponsored in the US by SAP America, Merrill Corporation and the Ewing Marion Kauffman Foundation.
In the New England region, gold sponsors also include: Boston Private Bank; fama PR; Goodwin Procter; the Isenberg School of Management at the University of Massachusetts Amherst; Nixon Peabody; True Capital; and Woodruff-Sawyer & Co. New England silver sponsors include: Chatham Financial; Empire Valuation Consultants; Morgan Lewis; Sullivan & Worcester; and T3 Advisors.
About Quanterix
Quanterix is a company that's digitizing biomarker analysis with the goal of advancing the science of precision health. The company's digital health solution, Simoa, has the potential to change the way in which healthcare is provided today by giving researchers the ability to closely examine the continuum from health to disease. Quanterix' technology is designed to enable much earlier disease detection, better prognoses and enhanced treatment methods to improve the quality of life and longevity of the population for generations to come. The technology is currently being used for applications in several therapeutic areas, including oncology, neurology, cardiology, inflammation and infectious disease. The company was established in 2007 and is located in Lexington, Massachusetts.
About EY Entrepreneur Of The Year®
EY Entrepreneur Of The Year is the world's most prestigious business award for entrepreneurs. The unique award makes a difference through the way it encourages entrepreneurial activity among those with potential and recognizes the contribution of people who inspire others with their vision, leadership and achievement. As the first and only truly global award of its kind, Entrepreneur Of The Year celebrates those who are building and leading successful, growing and dynamic businesses, recognizing them through regional, national and global awards programs in more than 145 cities in more than 60 countries.
About EY's Strategic Growth Markets practice
EY's Strategic Growth Markets (SGM) practice guides leading high-growth companies. Our multidisciplinary teams of elite professionals provide perspective and advice to help our clients accelerate market leadership. SGM delivers assurance, tax, transactions and advisory services to thousands of companies spanning all industries. EY is the undisputed leader in taking companies public, advising key government agencies on the issues impacting high-growth companies and convening the experts who shape the business climate.
About EY
EY is a global leader in assurance, tax, transaction and advisory services. The insights and quality services we deliver help build trust and confidence in the capital markets and in economies the world over. We develop outstanding leaders who team to deliver on our promises to all of our stakeholders. In so doing, we play a critical role in building a better working world for our people, for our clients and for our communities.
EY refers to the global organization, and may refer to one or more, of the member firms of Ernst & Young Global Limited, each of which is a separate legal entity. Ernst & Young Global Limited, a UK company limited by guarantee, does not provide services to clients. For more information about our organization, please visit ey.com.
Contacts:
Lauren Kaufman
PAN Communications
617-502-4300
quanterix@pancomm.com