back to news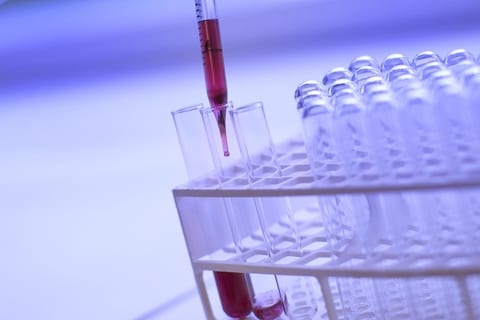 Could A Blood Test Predict Alzheimer's Disease 16 Years Before Symptoms?
BOSTON BUSINESS JOURNAL
by Allison DeAngelis – Life Sciences Reporter, Boston Business Journal
Feb 19, 2019, 6:04am EST
Could a blood test diagnose Alzheimer's disease up to 16 years before a person begins showing symptoms? The chief executive at Lexington-based Quanterix Corp. believes so.
Clinical trial data published in Nature journal late last month showed that Quanterix's (Nasdaq: QRTX) microscopic fluid-analysis device could detect very small levels of a protein linked to Alzheimer's disease called "neurofilament light chain" (NfL). The protein is released when neurons deteriorate and has been studied as a potential biomarker, or substance indicative of a disease or disorder, for nearly two decades.
There is currently no cure for Alzheimer's, but the ability to easily measure the NfL protein early in the disease could be useful for both patients and pharmaceutical companies hoping to develop preventative drugs, Quanterix CEO Kevin Hrusovsky said.
Alzheimer's often isn't diagnosed until a person develops mild dementia or memory loss, which the Mayo Clinic categorizes as the third of five stages of the disease. Many of the clinical trials currently in the works, like Biogen's BAN2401, are focused on slowing down the disease.
In a 405-person clinical trial involving more than 200 participants with a rare hereditary form of Alzheimer's, Quanterix's technology was able to detect NfL level increases 16 years before participants began showing symptoms.
Quanterix's Simoa device can detect the small changes in NfL levels — sometimes a few billionths of a gram — by breaking up blood samples into thousands of smaller samples that can then be analyzed more intricately, according to Hrusovsky.
"This could be major breakthrough," he said. "I think it could be akin to getting your cholesterol levels measured. In my estimation, three years from now, everybody should get educated on NfL and know their baseline levels."
There are a few hurdles standing in the way of an Alzheimer's blood test. The NfL protein has also been linked to concussions, multiple sclerosis and a few other diseases. Hrusovsky said an NfL measurement will likely need to be paired with other biomarkers to diagnose Alzheimer's specifically.
Several efforts to identify biomarkers are under way.
Researchers continue to probe the role a substance called amyloid beta plays in Alzheimer's disease. The sticky plaque has been linked to cognitive decline and found in Alzheimer's patients' brains and spinal fluid.
Investigators at Brigham and Women's Hospital, meanwhile, are developing a blood test to measure different forms of the tau protein, which has also been linked to the disease.